Explore JTR - Maps

The Buck's Row Area.

---
[Area Map] [Description] [Detail Map]

This map deals with the area of Buck's Row, the location of Mary Ann Nichols's death.
The First Canonical Victim.
---
---
DESCRIPTION

Buck's Row ran East-West from Brady Street to Baker's Row. Parallel to it and meeting it about half-way along its length was Winthrop Street. Going East down Buck's Row from the corner of Buck's Row and Winthrop Street was a board school, Brown's Stable Yard, and tenements.

Across the road from the stable yard were wharves. East of the wharves was Browne & Eagle's Wool Warehouse, Schnieder's Cap Factory, and then a low brick wall continued on down to Brady Street. At the North-West corner of Buck's Row & Brady Street was a street lamp.

The area was frequented by prostitutes. From Osborn Street & Whitechapel Road, the stable yard was about one-half mile.
---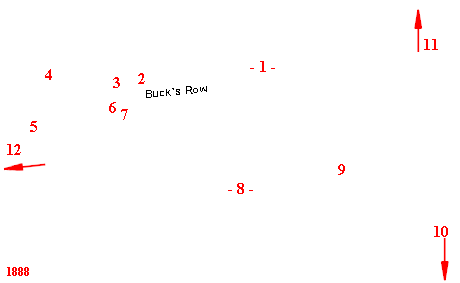 1. Browne & Eagle Ltd Wool Whses
2. Schneider's Cap factory
3. Walter & Mrs Purkiss (Essex Wharf)
4. Eastern London Railway
5. Board School
6. Brown's Stable Yard (murder scene)
7. Mrs Green (2 Buck's Row)
8. Tomkins, Britton, & Mumford
(Barber Knacker's Yard: slaughter house)
9. Patrick Mulshaw (Sewage Works)
10. To Whitechapel Road
& Dr Llewellyn's Surgeory
11. To Bethnal Green Police Station
12. To Baker's Row & Hanbury St
---
For sources used, refer to the Time Line of the specific victim.
---
Many THANKS to the people who have contributed to this page:
Geographical assistance - Courtesy of The Viper.
Buck's Row image - Courtesy of New York Herald.
Pub address - Courtesy of Ripperologist, issue #22.
88 detail map extract - Courtesy of Goad's Fire Plan via The Viper.
88 area map extract - Courtesy of G. Bacon's New Large-Scale Ordnance Atlas.
---